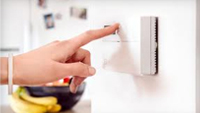 Healthcare centers consist of many environments, which include public areas, intensive care units, operating rooms, soiled-laundry rooms, sterilization facilities and neonatal-care units. The air around these areas contains chemical contaminants that impact the well being of patients and staff members. HVAC systems are used to keep out these contaminants from spreading from one area of the hospital to another, while keeping the air fresh.
For instance:
1. Nurseries, intensive care units, operating rooms and protective-environment rooms should always be at a positive pressure with respect to the surroundings.
2. Tuberculosis isolation and other airborne-infection-isolation rooms should always be at a negative pressure with respect to the surroundings.
3. Soiled-laundry, sterilization and autopsy rooms should have vents installed towards the outside.
In addition to maintaining the air pressure in different spaces in the hospital, HVAC systems are also important in controlling humidity. Humidity is a critical factor if the hospital is to maintain a consistent therapeutic environment.

Here are some of things to consider:
Temperatures in pediatric-surgery units are mostly kept at 86°F.
Treatment rooms meant for those with burn injuries are mostly kept at a temperature of 90 percent.
Temperatures in nursery suites are typically kept between 75 and 80°F.
Modernly designed hospitals are built with a tight envelope to ensure resources are utilized well. This ensures that little to no air from the outside enters spaces meant for patients. HVAC systems are very important when it comes to regulating this air.
Functions of HVAC system in hospital
Energy Efficiency
HVAC systems are used to regulate the amount of heat going in and out of pipes, ducts and equipment housings. There will be consistent air temperature from one source to its destination which reduces the amount of energy wasted. In case of Condensation Control, Condensation in pipe and duct surfaces can lead to infection and microbial-control issues. For this reason, it is very important to cool this equipment to prevent contamination. HVAC systems are able to control condensation and will contribute greatly to the solution.
For hospital environments such as operating rooms where temperature should be maintained at 75°F or lower, it will be wise to insulate ducts, pipes and other surfaces that are at risk of condensation. Patients in hospitals may have their sleeping patterns compromised due to anxiety, pain and adjustment to the new environment. Excess noise will only make things worse as patients are likely to experience stress, insomnia and high blood pressure. HVAC systems are very important to health care facilities but the fact that they can add to this unwanted noise is very saddening. However, modern systems come with low-velocity airflow, centralized equipment plants and large duct sections. This helps reduce the noise, giving patients a little peace.
Fiber Glass HVAC systems
Fiber glass HVAC systems come in handy in more ways than one. Whether you look at it from an acoustical or thermal perspective, fiberglass is simply the most cost-effective air conditioning solution. Its ability to mitigate moisture prevents the growth of mold on the system. Some building and organization codes require the use of fiberglass for HVAC systems and pipe-insulation products in order to keep mold under control. Also in case of thermal comfort, Patients in a hospital often wear little clothing depending on what they are suffering from. Most of them have little to no control over the clothes they wear and thus are unable to regulate temperatures in their bodies. HVAC systems are able to provide thermal comfort by regulating temperature in different spaces of the hospital. The staff members may also require a cooler area to relax their bodies after tiring activities.